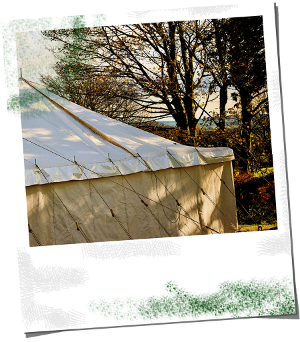 Accommodation
Go Wild... under canvas.
Each group has its own field, giving you security, privacy and plenty of space to sleep, eat, cook, play and chill. Each field also comes with a fire-pit and a load of wood for a bonfire - what camping experience is complete without a campfire?!
Surrounded by sturdy fencing and established native hedgerows, our fields give you plenty of security alongside the beauty that comes with the mix of oak, ash, hawthorne, blackthorne, hazel, blackberry, honeysuckle and wild rose you will find in the hedgerow.
Each field has its own stunning view which adds to the character of each site. A green and wooded valley, the Brecon Beacons, the Gower with a glimpse of Devon on a clear day, or the Preseli Mountains. What will be your view when you get out of your tent in the morning?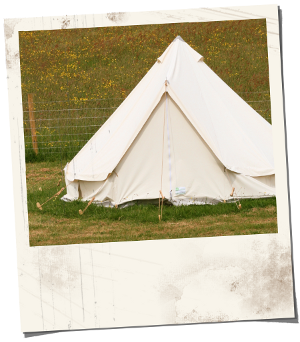 We have one Good-to-Go field with tents already set up for you - all you have to do is turn up and you're good to go! Tents typically sleep six to eight, with up to 10 canvas bell tents in the camping village. Also in this field is a Marquee. Comfortably taking 40 people, it is available for your use as a dining area, games hall or hang out zone.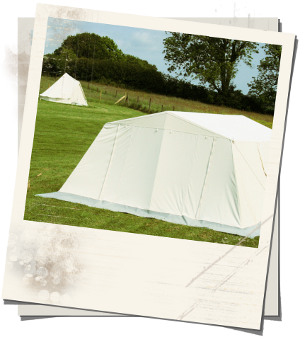 Next to the Marquee is a canvas Mess Tent, offering a good space to set up your cookers and tables to use for storing and preparing your meals.
The tents are situated round the edge of the field, taking advantage of the protection from the mature trees that are scattered along the hedges.
There is a small car parking area by the gated entrance to this field.
Alternatively, you can use our DIY field; you bring your own tents with you. You'll still have the use of a fire-pit and the toilets and showers, as with the Good-to-Go field.
DIY field Extras;
If you fancy trying out our canvas bell tents, they are available for hire in the DIY fields as well as for use in the Good-To-Go field.
We also have a a brick built shelter with electric points that can be hired at additional cost for games, dining or just sitting and chatting.
As with the Good-to-Go field, car parking is available in a small area outside the campsite itself.
Want to be part of a camping group, but just don't fancy the canvas? There is a 4 bed holiday cottage on site. It could be just the place to allow you full enjoyment of being part of your group.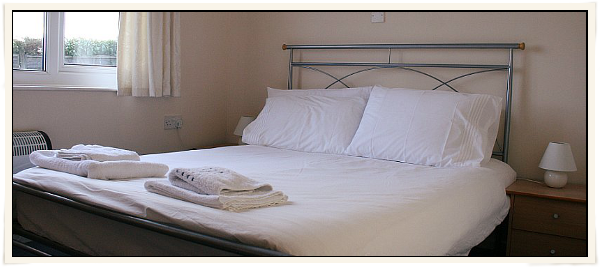 Follow the link below to see full details of the cottage, or contact us for more details. Bookings associated with Go Wild camps get a special discount!
Penlan Farm Cottage link
Extra bits; if there is anything in particular that would help your holiday run more smoothly or be more enjoyable, please ask. We will do our best to accommodate you. We want you to have the best adventure for you.
The reason you don't see prices quoted on this site is simply this; we set out to tailor-make each adventure holiday just for you. When we give you a quote, it will be for YOU. For your size group, your selected activities on your days, for a holiday your length and at your time of year. And for any extra special requirements you have asked for.